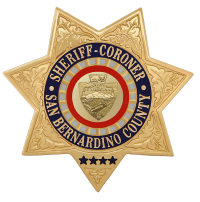 San Bernardino County Sheriff's Department
Press Release
Date/Time Occurred: March 3, 2017 / 9:30 a.m.
Crime or Incident: Forgery, Identity Theft, and Receiving Stolen Property
Location: Peyton Avenue and Bedford Lane
Victim(s): Multiple in Chino Hills and Riverside
Suspect: Reymundo Raphael Chavez, age 24 of Eastvale
Summary
On March 3, 2017, at approximately 9:30 a.m., deputies received information of a male and female attempting to steal a package that was recently delivered. The vehicle left the location without stealing the package. Deputy Romero conducted a traffic stop on the vehicle in the area of Peyton Drive and Bedford Lane. Deputies located a package that was found to be stolen from a different residence in Chino Hills. Mail belonging to approximately 15 victims in Riverside was also located inside the vehicle. The male suspect, 24-year-old Reymundo Raphael Chavez, fraudulently altered a personal check from the located stolen mail by "washing" it, changing the name, and dollar amount. A stolen postal key was located in Chavez' possession which belongs to a community mailbox.
Chavez was arrested for forgery, identity theft, and receiving stolen property. He was booked into the West Valley Detention Center.
Anyone with information regarding this case is urged to contact Detective N. Sousa at the Chino Hills Police/Sheriff's Station at (909) 364-2000. If you wish to remain anonymous you may contact WeTip at (800) 78-CRIME.
To view booking photo click on :
www.nixle.us/999JM
Refer: Chino Hills Police Department
Phone No.: 909-364-2000
CASE #221700725
John McMahon, Sheriff-Coroner
San Bernardino County Sheriff-Coroner Department
Sheriff's Public Affairs Division
655 E. Third Street
San Bernardino, California 92415-0061
Telephone: (909) 387-3700