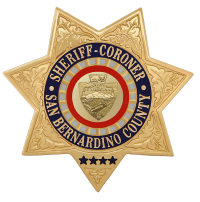 San Bernardino County Sheriff's Department
Press Release
Date/Time Occurred: November 15, 2017 / 2:32 p.m.
Crime or Incident: Burglary / Attempted Burglary / Receiving Stolen Property
Location: 12800 block of Fallview Lane
Victims: Multiple in Chino Hills
Suspect: Hispanic male juvenile, 15-year-old resident of Los Angeles
Summary
On November 15, 2017, at approximately 2:42 p.m., deputies from the Chino Hills Police Department responded to a residence in the 12800 block of Fallview Lane following the report of two unknown male subjects knocking on the front door of a residence, and they were unknown to the homeowner. Upon arrival, deputies were advised that the subjects had arrived at the residence in a blue Scion XB. After knocking on the door, one of the subjects entered the backyard of the residence and looked into the residence through a rear window. The subject made eye contact with the homeowner and fled the location in the blue Scion.
Deputy Drayer located the blue Scion in the 2300 block of Scenic Ridge Drive. He attempted to make contact with the driver who left at a high rate of speed. The vehicle was found to have been reported stolen and was located in a nearby driveway after hitting another vehicle. The occupants of the vehicle ran from the scene and had not been located. Deputies located jewelry, electronics, and coins inside the vehicle. A Hispanic male juvenile, 15-years-old, was located by deputies as he was exiting the backyard of a nearby residence. Detectives believe the suspects are responsible for three additional burglaries in the area.
The juvenile was arrested for burglary, attempted burglary, and receiving stolen property. He was booked into San Bernardino Central Juvenile Hall. Anyone with information regarding this investigation is urged to contact Detective N. Sousa at the Chino Hills Police/Sheriff's Station at (909) 364-2000. If you wish to remain anonymous, you may contact WeTip at 1-800-78-CRIME (27463), or you may leave information on the We-Tip website at www.wetip.com.
Refer: Chino Hills Police Department
Case No.: 221703959, 221703961, 22173962, 221703963
Phone No.: 909-364-2000
John McMahon, Sheriff-Coroner
San Bernardino County Sheriff-Coroner Department
Sheriff's Public Affairs Division
655 E. Third Street
San Bernardino, California 92415-0061
Telephone: (909) 387-3700