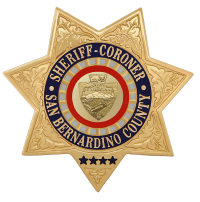 San Bernardino County Sheriff's Department
Press Release
Date/Time Occurred: March 14, 2017 / 8:18 p.m.
Crime or Incident: Residential Burglary
Location: 16000 Block of Aquamarine Court, City of Chino Hills
Victim: Lavar Ball
Suspect(s): Two males; possibly wearing dark clothing
Summary
On Tuesday, March 14, 2017 at approximately 8:18 p.m., Chino Hills deputies were dispatched to a call from a citizen in the 16000 block of Aquamarine Court who stated they heard glass breaking and believed the neighbor's house was being burglarized. When deputies arrived they immediately set up a perimeter and initiated a search of the residence, but discovered the suspects had fled prior to their arrival. Additional deputies, and an airship from the Sheriff's Department Aviation Division conducted a complete search of the area but the suspects were not located. The suspects were only described as two male subjects wearing dark clothing. Detectives are processing evidence found at the scene, and working with the victim to determine if any property was taken.
The Chino Hills Police Department appreciates the conscientious neighbor who called to report this crime in progress. We encourage citizens to report any suspicious activity or persons in their neighborhood.
Any additional information references this incident, contact the Chino Hills Police Station's Detective Bureau. (909) 364-2000. Callers wishing to remain anonymous may call WeTip at 800 78-CRIME.
SAN BERNARDINO COUNTY SHERIFF'S DEPARTMENT
Chino Hills Police/Sheriff's Station
Deputy Frias or Deputy Walsh
14077 Peyton Drive, Chino Hills
(909)364-2000
CASE # 221700859
John McMahon, Sheriff-Coroner
San Bernardino County Sheriff-Coroner Department
Sheriff's Public Affairs Division
655 E. Third Street
San Bernardino, California 92415-0061
Telephone: (909) 387-3700