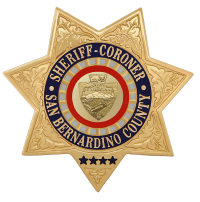 San Bernardino County Sheriff's Department
Press Release
Date/Time Occurred: October 30, 2017 / 01:40 am
Crime or Incident: Residential Burglary
Location: 2100 Block of San Tropez Ct, City of Chino Hills
Suspect(s): #1 white male adult early 20's, #2 black male adult early 20's #3 black male adult early 20's
Summary
On Monday, October 30, 2017, at approximately 1:40 am, deputies from the Chino Hills Police Department were dispatched to a burglary at a residence in the 2100 block of San Tropez. The reporting party stated he saw a shadowy subject trying to enter the rear door of his residence. When deputies arrived, they immediately initiated a search of the residence but discovered the suspects fled before their arrival. Additional deputies conducted a complete search of the area, but the suspects were not located. According to the victim, the only property taken were two hoverboards.
The suspects were captured on the victim's video surveillance system as they entered and exited the garage in less than one minute. The video depicted three males in their early twenties wearing light and dark clothing, and one of them carrying a handgun. Citizens are encouraged to report any suspicious activity or persons in their neighborhood.
Detectives are asking for the public's assistance in identifying the suspects involved in this crime. Anyone with information is urged to contact the Chino Hills Police Department Detective Bureau at (909) 364-2000. Callers wishing to remain anonymous are urged to contact the We-Tip Hotline at 1-800-78-CRIME (27463) or the website at www.wetip.com.
Video available at: https://twitter.com/chinohills_pd/status/926204596187525125
SAN BERNARDINO COUNTY SHERIFF'S DEPARTMENT
Chino Hills Police/Sheriff's Station
Detective Beaton
14077 Peyton Drive, Chino Hills
(909)364-2000
CASE # 221703725
John McMahon, Sheriff-Coroner
San Bernardino County Sheriff-Coroner Department
Sheriff's Public Affairs Division
655 E. Third Street
San Bernardino, California 92415-0061
Telephone: (909) 387-3700