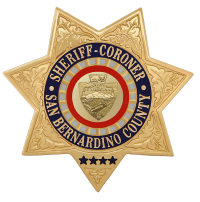 San Bernardino County Sheriff's Department
Press Release
Date/Time Occurred: Monday, October 30, 2017
Crime or Incident: PC 459, Burglary
Location: 2100 Block of San Tropez Court, Chino Hills
Suspect(s): Weymans, Mason 18 years old
Summary
In the early morning hours of Monday, October 30, 2017, a burglary occurred at a residence in the 2100 Block of San Tropez. Members of the Chino Hills Police Department responded and began investigating the burglary, but developed minimal leads. On Wednesday, November 1, 2017, after 4pm, the victim turned over surveillance footage to investigators that depicted three suspects inside the victim's garage, and one of them was brandishing a handgun.
Within 24 hours of receiving the surveillance video, Detectives identified and arrested Mason Weymans, who appears to be wielding a handgun in the video, and Patrick Gillins; both of whom are residents of Chino Hills. Weymans and Gillins were booked into the West Valley Detention Center for PC459, Residential Burglary.
************************************ UPDATE **************************************
On November 7th after further investigation, detectives identified and arrested 18-year-old Jayden Johnson of Pomona in connection with the residential burglary. Darius Williams, 18-year-old resident of Chino Hills has been identified as the final suspect and a warrant has been issued for his arrest.
Anyone with additional information is encouraged to call the Chino Hills Police Department, or if you wish to remain anonymous you may call WeTip at (800) 78-CRIME.
SAN BERNARDINO COUNTY SHERIFF'S DEPARTMENT
Chino Hills Police Department
Detective Tom Jolin
909-364-2000 Station
909-465-6837 Dispatch
John McMahon, Sheriff-Coroner
San Bernardino County Sheriff-Coroner Department
Sheriff's Public Affairs Division
655 E. Third Street
San Bernardino, California 92415-0061
Telephone: (909) 387-3700