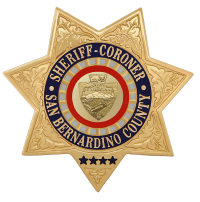 San Bernardino County Sheriff's Department
Press Release
Date/Time Occurred: April 24, 2017, 2:05 pm
Crime or Incident: Search and Rescue / Death Investigation
Location: Chino Hills State Park
Victim: Sokha Pho, 42-year-old male a resident of Downey
Summary
Investigators from the Orange County Sheriff's Department contacted the Chino Hills Police Station and requested mutual aid in locating a missing mountain biker in the Chino Hills State Park. Family members reported Sokha Pho as missing after he failed to return home from his bike ride in the state park on Sunday, April 23, 2017. The initial missing person report was investigated by park rangers, who located Pho's vehicle parked near the Chino Hills State Park Discovery Center in Brea, 4500 Carbon Canyon Road (State Route 142).
Members of the Orange County Sheriff's Department searched the west portion of the park, while the San Bernardino County Sheriff's Department – West Valley Search and Rescue, along with the Department's air ship (40 King), searched the east portion of the park. At approximately 2:05 p.m, 40 King crew members located Pho's body near Raptor Ridge on the Telegraph Canyon trail. Pho was pronounced deceased. The San Bernardino County Coroner's Division responded to the location. The cause of death is currently unknown and will be determined after an autopsy is completed.
Anyone with additional information reference this incident is urged to call the Chino Hills Police Department at (909) 364-2000. Callers wishing to remain anonymous may call WeTip at
(800) 78-CRIME (27463).
San Bernardino County Sheriff's Department
Chino Hills Police/Sheriff's Station
909-364-2000
Case #031701165
Sergeant D. Frayeh
John McMahon, Sheriff-Coroner
San Bernardino County Sheriff-Coroner Department
Sheriff's Public Affairs Division
655 E. Third Street
San Bernardino, California 92415-0061
Telephone: (909) 387-3700