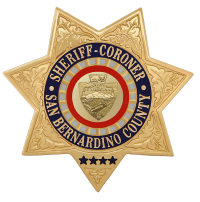 San Bernardino County Sheriff's Department
Press Release
DATE/TIME: October 10, 2017/12:40 p.m.
INCIDENT: Child Endangerment
LOCATION: 100 Block of Chestnut Street
SUSPECT(S): Tiffany Digby, 35-year-old resident of Needles
VICTIM(S): 6-year-old female
Summary
On October 10, 2017, at 12:40 p.m., deputies from the Colorado River Station/Needles Police Department responded to Vista Colorado Elementary School for the report of a missing six-year-old female. After the suspect, Digby came to the school looking for her daughter who had not shown-up for school; the school staff notified law enforcement. Digby appeared to the school staff as being under the influence of drugs. The staff watched as Digby left the school and proceeded to dig through trash cans along the curb as she walked down the street.
A door to door search was conducted for the missing child in a neighborhood Digby was thought to be living in. Digby was located in a house in the 100 block of Chestnut Street but, the victim was not with Digby. Digby became agitated and uncooperative with the deputies during the investigation. Digby was found to be under the influence of a controlled substance, and at one point Digby was hallucinating and stating she could see her daughter standing in the street next to a car. Digby did not know where her daughter was or with whom.
A short time later, the victim was found safe with some neighbors. The neighbors stated Digby left her daughter with them and just walked away. Digby was arrested for child endangerment and being under the influence of a controlled substance and booked at the Needles jail on $100,000.00 bail.
Anyone with information reference this investigation can contact Deputy Larry Jenkins or Detective Nick Caronna at (760) 326-9200 or come to the Colorado River Station/ Needles Police Department located at 1111 Bailey Ave. Those wishing to remain anonymous can call the We-Tip Hotline at (800) 78-CRIME(27463) or leave information online at www.wetip.com.
For press releases, news and information follow the Colorado River Station on Twitter at @COVRiverStation
Refer: Deputy L. Jenkins
Station: Colorado River Station
Phone No. 760-326-9100
Case No. 211701037
John McMahon, Sheriff-Coroner
San Bernardino County Sheriff-Coroner Department
Sheriff's Public Affairs Division
655 E. Third Street
San Bernardino, California 92415-0061
Telephone: (909) 387-3700