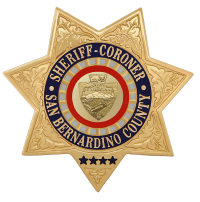 San Bernardino County Sheriff's Department
Press Release
DATE/TIME: Thursday, October 12th, 12:50 a.m.
INCIDENT: Hoist rescue
LOCATION: Foothill east of San Antonio Dam
VICTIMS: Gregory Ocampo, 23 years old, of Lake Havasu
Sergio Medrano, 24 years old, of Rialto
Summary
On Thursday, October 12, 2017, at approximately 12:39 a.m., Gregory Ocampo called 911 from his mobile phone to report he and another hiker, Sergio Medrano, were hiking near Devil's Backbone Trail, became lost during darkness, and were now "hanging on the edge of a cliff".
Sheriff's Dispatch immediately notified the Fontana Station and the Aviation Unit about the Search & Rescue. Deputy Rich Farrow, of the Fontana Station, and Bob Gattis, a volunteer from West Valley Search Rescue responded to the call.
Due to Ocampo's report, Air Rescue 306, with Pilot Deputy Ryan Conner, Crew Chief Sergeant Daniel Futscher and Tactical Flight Officer Corporal Ed Leon, rigged for a "pick-off" Night Vision Goggle (NVG) hoist and responded from San Bernardino.
While Air Rescue 306 was enroute, Farrow found the victim's vehicle near the San Antonio Dam, and based on that, as well as additional information determined Ocampo and Medrano were not near Devil's Backbone, but northeast of the dam. Air Rescue 306 arrived onscene at approximately 2:30 a.m. and began searching for the victims using NVGs. After approximately fifteen minutes they located the victims off trail, on a steep, rocky hillside.
The crew determined that, although the terrain did not necessitate a "pick-off", a night vision hoist rescue was needed to get Ocampo and Medrano off the steep terrain and back to safety. While Conner hovered in the canyon, Futscher lowered Leon down approximately 100' to the hikers using the helicopter's internal hoist. Once on the ground, Leon placed Ocampo and Medrano into rescue harnesses and Futscher hoisted the victims and Leon up to the helicopter. The victims were flown to San Antonio Dam and released to Farrow without injury.
This was the Aviation Unit's 2nd NVG hoist within a five hour period of time.
Hikers are encouraged to use good judgement and always be prepared when hiking in the mountains, higher altitudes or the high desert. No matter the weather, anticipate the unexpected and pack the appropriate clothes for snow, cold and rain.
Refer: Deputy Doug Brimmer
Station: Emergency Operations Division- Aviation Unit
Case #: BBR1700922
Phone No. (909)252-4100
John McMahon, Sheriff-Coroner
San Bernardino County Sheriff-Coroner Department
Sheriff's Public Affairs Division
655 E. Third Street
San Bernardino, California 92415-0061
Telephone: (909) 387-3700