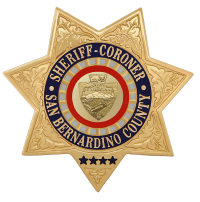 San Bernardino County Sheriff's Department
Press Release
DATE/TIME: December 8, 2017
INCIDENT: Human Trafficking Operation
LOCATION: San Bernardino County
SUSPECT(S): 11 male suspects from Los Angeles, Riverside, and San Bernardino counties.
Summary
On December 8, 2017, members of the San Bernardino County Human Trafficking Task Force conducted a prostitution operation. Investigators posted a decoy advertisement on the online classified listing www.backpage.com, posing as a female prostitute.
During the operation, investigators received several phone calls from males who were interested in meeting with a prostitute. Of all callers, eleven men made dates and met with undercover officers. All suspects were arrested without incident for violation of PC647(b)(2) Solicitation of Prostitution. All suspects were transported to the West Valley Detention Center for booking.
Human trafficking is an ongoing issue across the nation. The San Bernardino County Human Trafficking Task Force is continuously running operations to combat Human Trafficking and the commercial sex trade. Anyone with information related to human trafficking, please contact the San Bernardino County Human Trafficking Task Force at (909)387-8400. Anyone wishing to remain anonymous may contact We-Tip at 1-888-78-CRIME, or you may leave information on the WE-Tip Hotline at www.wetip.com.
Refer: Dep. G. Deloria
Station: San Bernardino County Human Trafficking Task Force
Phone No. (909) 387-8400
Case No. 621700444 – 621700454
John McMahon, Sheriff-Coroner
San Bernardino County Sheriff-Coroner Department
Sheriff's Public Affairs Division
655 E. Third Street
San Bernardino, California 92415-0061
Telephone: (909) 387-3700