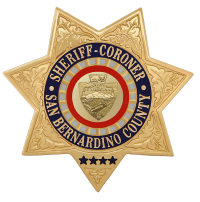 San Bernardino County Sheriff's Department
Press Release
DATE/TIME: November 5, 2017
INCIDENT: Armed Robbery
LOCATION: 12085 Mt Vernon Avenue, Grand Terrace
SUSPECT: Hispanic male, 25-35 years old, 5'8″-6'0″, 180-200 lbs.
Last seen wearing Black hooded sweatshirt, tan pants, gray shoes and sunglasses
VICTIM: Little Caesars Pizza
Summary
On Sunday, November 5, 2017 at 7:20 p.m. the suspect entered the business, approached the cashier and pointed a silver handgun at the employee while demanding all the money from the register. Fearing for her life, the employee did not move as the suspect reached over the counter and grabbed all the money from the register. The suspect fled on foot, eastbound on Barton Road. No other suspects were seen by the employee or by the witnesses.
The suspect was described as a Hispanic male adult, approximately 25-35 years old, 5'8″-6'0″, approximately 180-200 lbs, wearing a black hooded sweater, sunglasses, tan pants and gray shoes. The suspect may have a tattoo next to his right eye.
Anyone with information regarding this crime, or the identity of the suspect, is urged to contact Central Station at (909)387-3545. Callers can remain anonymous and contact WeTip at (800)78-CRIME or www.wetip.com.
Refer: Deputy A. Alcala
Station: Central Station
Phone No. 909-387-3545
Case No. 121701079
John McMahon, Sheriff-Coroner
San Bernardino County Sheriff-Coroner Department
Sheriff's Public Affairs Division
655 E. Third Street
San Bernardino, California 92415-0061
Telephone: (909) 387-3700