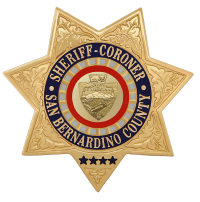 San Bernardino County Sheriff's Department
Press Release
DATE/TIME: September 30, 201710:50 am
INCIDENT: PC 245(a)(1) Assault with a Deadly Weapon
LOCATION: 22257 Barton Road, Grand Terrace
SUSPECT(S): Jasmine Marie Guerrero, age 23 a resident of Riverside
VICTIM(S): Confidential Persons
Summary
On Friday, September 30, 2017, the suspect identified as Jasmine Marie Guerrero arrived at the Mc Donald's restaurant in the City of Grand Terrace. Guerrero complained about a food purchase and demanded a refund and got into an argument with the victim. During that argument, Guerrero hit the victim in the face and caused a serious injury to the person. Guerrero also broke the victim's glasses and threw them at the victim. The victim suffered injuries that required medical attention.
Grand Terrace Deputy Sheriff, B. Ortiz investigated the case. Ortiz was able to obtain evidence and identify Guerrero as the suspect. In the course of the investigation an arrest warrant was obatined for Guerrero .
Deputies attempted several negative contacts with Guerrero. On October 9, 2017, Jasmine Guerrero turned herself into Central Patrol Station in San Bernardino and was arrest for Assault with a Deadly Weapon.
Guerrero's case will be forwarded to the District Attorney for consideration.
Refer:Deputy B.Ortiz
Station:Central Station
Phone No. 909-387-3545
Case No. 121700943
John McMahon, Sheriff-Coroner
San Bernardino County Sheriff-Coroner Department
Sheriff's Public Affairs Division
655 E. Third Street
San Bernardino, California 92415-0061
Telephone: (909) 387-3700