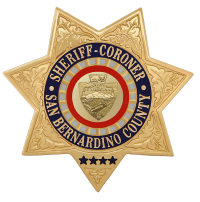 San Bernardino County Sheriff's Department
Press Release
DATE/TIME: November 2, 2017
INCIDENT: PC 664/187 Attempt Murder
LOCATION: 11000 block of Burns Avenue, Grand Terrace
SUSPECT(S): Raymundo Shaw, age 36 a resident of Colton
VICTIM(S): Confidential
Summary
On October 25, 2017, at approximately 4:12 p.m., Deputy P. Casas, from the Sheriff's Central Station, Grand Terrace Patrol, responded to a call in reference to a stabbing victim on the 11000 block of Burns Avenue, Grand Terrace. Casas arrived at the location and discovered the victim had a life threatening stab wound to the chest. Casas provided life saving first aid and stabilized the victim until the fire department arrived. The victim was transported to a local hospital and is expected to survive.
Through investigation, the suspect was identified as Raymundo Shaw. On November 1st, members of the Specialized Enforcement Division located Shaw at his residence in Colton. Shaw was taken into custody without incident and booked into Central Detention Center for PC 664/187 Attempt Murder.
Anyone with information regarding this incident is urged to contact Central station at (909)387-3545. Callers wishing to remain anonymous are urged to call We-Tip Hotline at 1-800-78-CRIME(27463) or you may leave information on the website at www.wetip.com.
Refer: Deputy P. Casas
Station: Central Station
Phone No. (909)387-3545
Case No. 121701040
John McMahon, Sheriff-Coroner
San Bernardino County Sheriff-Coroner Department
Sheriff's Public Affairs Division
655 E. Third Street
San Bernardino, California 92415-0061
Telephone: (909) 387-3700