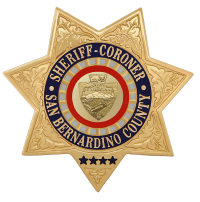 San Bernardino County Sheriff's Department
Press Release
DATE/TIME: March 30, 2017 7:10 a.m.
INCIDENT: Conspiracy, Burglary, Evading LOCATION: 22000 blk Kentfieldo Street, Grand Terrace SUSPECT(S): Bernard Peoples, 19 years old, resident of Gardena Darion Green, 24 years old, transient resident of Los Angeles 16 years old female, resident of Riverside
Summary
On March 30, 2017 at approximately 7:10 a.m. the victim called sheriff's dispatch regarding two suspects, later identified as Bernard Peoples and Darion Green, breaking into her residence. Deputies responded and arrived as Green and Peoples fled back to their vehicle, where the 16-year-old was waiting for them. The 16-year-old drove away from the location and deputies quickly attempted to stop her. She initially pulled over, but as deputies gave her commands, she drove off at a high rate of speed, disregarding posted speed limit, stop signs and Sheriffs units pursuing her. 
The 16-year-old driver turned onto a dead end street and prior to the vehicle coming to a stop, Green exited and fled into the residential neighborhood on foot. The juvenile driver stopped the vehicle and was taken into custody by sheriff's deputies. As the juvenile was being taken into custody, Peoples fled from the vehicle on foot. An extensive search of the area was conducted and both suspects were found hiding in the nearby neighborhoods. 
Anyone with information regarding this incident, or any other crime the suspects may be responsible for, is urged to contact Central Station Detective Bureau (909) 387-3545. Callers wishing to remain anonymous are urged to call the We-Tip Hotline at 1-800-78-CRIME (27463) or you may leave information on the We-Tip Hotline at www.wetip.com
Booking photos available at: https://local.nixle.com/alert/5889071/
Refer:Central Station Detective Bureau
Phone No.(909) 387-3545
Case No.121700287
John McMahon, Sheriff-Coroner
San Bernardino County Sheriff-Coroner Department
Sheriff's Public Affairs Division
655 E. Third Street
San Bernardino, California 92415-0061
Telephone: (909) 387-3700