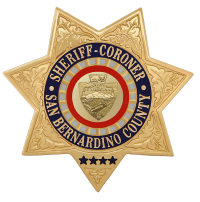 San Bernardino County Sheriff's Department
Press Release
DATE/TIME: July 20, 2017 11:00 PM
INCIDENT: Maintaining a drug house, felon in possession of a firearm, body armor and ammunition, possession of methamphetamine for sales, possession of methamphetamine
LOCATION: 23000 block of Westwood St., City of Grand Terrace
SUSPECT(S): #1: Rocco Montagnese, 53-year-old, resident of Grand Terrace
#2: Ronald Sikorski, 48-year-old, resident of Grand Terrace
#3: Tawni Balint, 28-year-old, resident of Grand Terrace
Summary
Deputy Gile from the San Bernardino County Sheriff's Central Station (Grand Terrace Police) went to the incident location to serve a due diligence warrant on a wanted subject. While at the incident location, Deputy Gile made contact with Rocco Montagnese, who is a convicted felon. During a check of the property a rifle, body armor, ammunition and methamphetamine were located. Montagnese is prohibited from possessing these items due to his felony conviction status. Through the investigation it was learned Montagnese was maintaining the residence for drug use and sales. Tawni Balint was found to be living at the residence and methamphetamine was located within her property.
Ronald Sikorski arrived at the residence on a motorcycle during the investigation. He was found to be driving on a suspended license and was detained. Sikorski was found in possession of a quantity of methamphetamine, which is consistent for sales.
All three subjects were arrested and booked into Central Detention Center. Several other subjects that were at the residence, all who had drug history, were released at the scene.
Anyone with information regarding this incident is urged to contact Central Station at (909)387-3545. Callers wishing to remain anonymous are urged to call We-Tip Hot line at 1-800-78-CRIME(27463) or you may leave information on the website at www.wetip.com.
To view photo: www.nixle.us/9GQY5
Refer: Deputy J. Gile
Station: Central Station (Grand Terrace Police)
Case #: 121700679
Phone No. (909) 387-3545
John McMahon, Sheriff-Coroner
San Bernardino County Sheriff-Coroner Department
Sheriff's Public Affairs Division
655 E. Third Street
San Bernardino, California 92415-0061
Telephone: (909) 387-3700