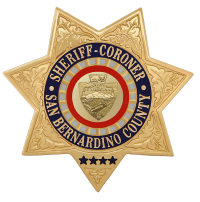 San Bernardino County Sheriff's Department
Press Release
DATE/TIME: August 17, 2017
INCIDENT: Operation Safe Passage
LOCATION: City of Grand Terrace
Summary
In an effort to enhance student safety, the San Bernardino County Sheriff's Department – Central Station will be launching "Operation Safe Passage" at all schools in the city of Grand Terrace.
Violating vehicle codes in school zones, needlessly, put students at risk. The intent of the program is to educate and make sure drivers understand the California vehicle codes that pertain to school zones. This safety program will help protect our children and keep them safe as they travel to and from school.
The operation will take place on selected dates in the month of August and will consist of a two-part approach. The first part will be education – Sheriff's Citizens on Patrol and Colton Joint Unified School District Employee's will be handing out tri-folds with information on school zone laws at all schools. The information will also be available on each school sites online homepage. The second part will be "zero tolerance" enforcement – Deputies will be out enforcing school zone laws and issuing citations to drivers who are in violation. Fines for violations could range from $18.50 up to $400.00.
The San Bernardino County Sheriff's Department is dedicated to ensuring the safety of our students.
Refer: Deputy Frank Navarro
Station: Central Station – city of Grand Terrace
Phone No. 909-387-3545
John McMahon, Sheriff-Coroner
San Bernardino County Sheriff-Coroner Department
Sheriff's Public Affairs Division
655 E. Third Street
San Bernardino, California 92415-0061
Telephone: (909) 387-3700