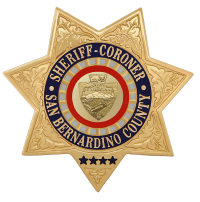 San Bernardino County Sheriff's Department
Press Release
DATE/TIME: August 16, 2017 / 3:15 p.m.
INCIDENT: PC 496D(A) Possession of a Stolen Vehicle / PC 3455 Probation Violation
LOCATION: Barton Road and Mt. Vernon Avenue, Grand Terrace
SUSPECT: Joseph Hernandez, 31 years old, San Bernardino resident
Summary
On August 16, 2017, at approximatey 3:15 p.m., Deputy P. Casas from the Sheriff's Central Station, Grand Terrace Patrol, was conducting proactive patrol when he observed a white Volkswagen Jetta commit several moving violations. Casas initiated a traffic stop in the CVS parking lot at Barton Road and Mt. Vernon Avenue, and made contact with the driver.
The driver was identified as Joseph Hernandez, and found to be on active felony probation for PC 30305 (A)(1) Felon in Possession of Ammunition. Casas ran a records check of the vehicle and discovered it was reported stolen out of the city of Victorville. Further investigation revealed the vehicle was used in a Robbery in the city of San Bernardino. Casas contacted San Bernardino Police Department Investigators and they responded to the scene. The investigation by San Bernardino Police is ongoing.
Hernandez was arrested for PC 496D(A) Possession of a Stolen Vehicle and PC 3455 Probation Violation.
Anyone with information regarding this incident is urged to contact Central station at (909)387-3545. Callers wishing to remain anonymous are urged to call We-Tip Hotlineat 1-800-78-CRIME (27463) or you mayleave information on the website at www.wetip.com.
Refer: Deputy P. Casas
Station: Central Station
Phone No. (909)387-3545
Case No. 121700783
John McMahon, Sheriff-Coroner
San Bernardino County Sheriff-Coroner Department
Sheriff's Public Affairs Division
655 E. Third Street
San Bernardino, California 92415-0061
Telephone: (909) 387-3700