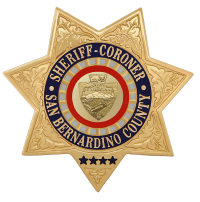 San Bernardino County Sheriff's Department
Press Release
DATE/TIME: November 13, 2017
INCIDENT: PC 30605; Possession of an Assault Rifle
PC 25400(a)(1); Concealed Firearm within Reach
LOCATION: Palm Avenue & Honey Hill Drive
SUSPECTS: Jonathan Reyes, age 29 a resident of Las Vegas
Martin Estrada, age 22 a resident of Colton
Summary
On Monday, November 13, 2017, at approximately 8:40 pm, Deputy Paul Casas from the San Bernardino County Sheriff's Central Station conducted a vehicle check of an illegally parked vehicle near Palm Avenue/Honey Hill Drive. The vehicle was occupied by Jonathan Reyes and an adult female. Upon contact, Reyes fled on foot eastbound from the location into the nearby foothill area of Reche Canyon, leaving the female with the vehicle. Inside the vehicle, deputies located a loaded assault rifle with a 32 round high capacity magazine. Also, a loaded .45 caliber handgun was located underneath the passenger seat.
An immediate perimeter was established, and deputies began to search the area for Reyes with the assistance of the sheriff's helicopter. However, he continued to elude deputies. While on the run, Reyes contacted Martin Estrada via text message and told him he needed a ride because the police were chasing him. Estrada drove to the area of Barton and Center to pick up Reyes. However, he was observed by deputies in the area and detained.
Deputy Girard and K9 Dare assisted in helping Grand Terrace Deputies search for Reyes. K9 Dare was deployed using a scent article Reyes left at the scene. K9 Dare trailed Reyes into the nearby foothills for approximately 1.5 miles until she alerted on a dense brush area where Reyes was hiding. Reyes was taken into custody.
Jonathan Reyes was transported and booked into the West Valley Detention Center for a concealed firearm within reach and possession of an assault weapon. Reyes was also found to have a warrant out of Las Vegas, and he is being held without bail. Martin Estrada was transported and booked into Central Detention Center for accessory and is being held on $25,000.00 bail.
Anyone with information regarding this incident is urged to contact Central Station at (909)387-3545. Callers wishing to remain anonymous are urged to call WeTip hotline at 1-800-78-CRIME(27463), or you may leave information on the website at www.wetip.com.
Photo available: https://local.nixle.com/alert/6257763/
Refer: Deputy Paul Casas or Sergeant David Clifford
Station: Central Patrol
Case #: 121701105
Phone No. (909) 387-3545
John McMahon, Sheriff-Coroner
San Bernardino County Sheriff-Coroner Department
Sheriff's Public Affairs Division
655 E. Third Street
San Bernardino, California 92415-0061
Telephone: (909) 387-3700