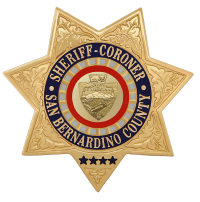 San Bernardino County Sheriff's Department
Press Release
DATE/TIME: Wednesday, October 18, 2017, 8:20 p.m.
INCIDENT: Attempt Murder of a Peace Officer / Deputy-Involved Shooting
LOCATION: Skyline Ranch Rd., 3 miles west of Hwy. 247, Yucca Valley
SUSPECT: Unknown, white male adult
Summary
On Wednesday, October 18, 2017, at 8:20 p.m., deputies initiated a traffic stop on a Ford truck in the area of Hwy 62/Hwy 247 for a vehicle code violation. The driver failed to yield, and a pursuit ensued on paved roadways and into the desert. Several minutes into the pursuit, the driver while traveling west on Skyline Ranch Road, attempted to run over a deputy, and a deputy-involved shooting occurred. The driver of the vehicle continued approximately 100 yards where the road became impassable. The driver exited his vehicle and fled on foot into the desert. An extensive search was conducted of the surrounding area using deputies, Sheriff's helicopter, and a K9 unit. The search ended without locating the suspect, and he remains outstanding.
Investigators from the Homicide Detail are conducting the investigation. It is unconfirmed if the suspect was injured during the deputy-involved shooting.
Anyone with information regarding this investigation, or the identity of the suspect, is urged to contact the Homicide Detail, Detective Travis Randolph or Sergeant John Gaffney. Callers wishing to remain anonymous are urged to call the We-tip Hotline at 1-800-78-CRIME (27463), or you may leave information on the We-Tip website at www.wetip.com.
Refer: Detective Travis Randolph or Sergeant John Gaffney
Station: Specialized Investigations Division – Homicide Detail
Phone No. (909) 387-3589
Case No. DR#231701969 H#2017-102
John McMahon, Sheriff-Coroner
San Bernardino County Sheriff-Coroner Department
Sheriff's Public Affairs Division
655 E. Third Street
San Bernardino, California 92415-0061
Telephone: (909) 387-3700