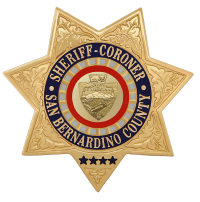 San Bernardino County Sheriff's Department
Press Release
DATE/TIME: Thursday, January 5, 2017 / 3:45 p.m.
INCIDENT: Search Warrant – Illegal Marijuana Dispensary / Sales of Marijuana
LOCATION: 13100 block of Camellia Road, Victorville
SUSPECT(S): Johnny George Salazar, 54 years old, from Victorville
                        David Wayne Jones, 39 years old from Adelanto
Summary
Investigators from the Sheriff's Marijuana Enforcement Team and deputies from the Victor Valley Station served a search warrant at 13108 Camellia Road in Victorville. Investigators found evidence the location was being used to distribute and sell marijuana and marijuana related goods. Processed marijuana, concentrated cannabis (THC Wax and THC Oil), marijuana edibles and currency were seized from the location. Salazar and Jones were identified as the primary suspects and were present at the location when the search was conducted. Both were arrested for the illegal sales of marijuana and operating an illegal marijuana dispensary.
A case will also be investigated by the San Bernardino County Land Use Services – Code Enforcement Division and the tenants and/or property owner(s) may be issued a citation for the violations and ultimately fined for the violations if they go uncorrected. There were several violations noted during the investigation. This information will be sent to the Code Enforcement Division for follow up investigation.
The illegal marijuana dispensary was discovered several weeks ago by investigators. Several complaints made by local residents in the immediate area were made to officials. A preliminary check into the business showed there were no licenses or permits issued by officials. The small operation was set up in the back yard of a residence with other residences in the immediate area.
Evidence gathered during the investigation suggests the two suspects in charge and working at the location were not in compliance with California medical marijuana laws and local ordinances. The County of San Bernardino has an ordinance prohibiting medical marijuana dispensaries, mobile marijuana dispensaries, delivery services, and outdoor cultivation of marijuana in the unincorporated areas of the county.
All of the criminal reports will be submitted to the San Bernardino County District Attorney's Office at the conclusion of the criminal investigation. The District Attorney's Office will review the case and decide on what, if any, criminal charges will be filed against the suspects. The property owner(s) may face civil and/or criminal charges at a later date. Johnny Salazar and David Jones were arrested and booked into the High Desert Detention Center.
Anyone with information regarding this investigation is urged to contact the Sheriff's Gangs / Narcotics Division at (909)890-4840. Callers wishing to remain anonymous are urged to call the We-tip Hotline at 1-800-78-CRIME (27463) or you may leave information on the We-Tip Hotline at www.wetip.com.
Refer: Sheriff's Public Affairs
Phone No. (909) 387-3700
DR / Case: 621700008 / 621700009
John McMahon, Sheriff-Coroner
San Bernardino County Sheriff-Coroner Department
Sheriff's Public Affairs Division
655 E. Third Street
San Bernardino, California 92415-0061
Telephone: (909) 387-3700