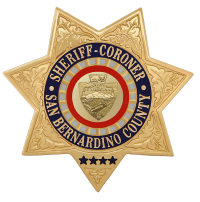 San Bernardino County Sheriff's Department
Press Release
DATE/TIME: January 18, 2017 3:42 P.M.
INCIDENT: Mother Attempts to Kidnap Her Infant Child
LOCATION: 16300 Block of Main Street, Hesperia
SUSPECT(S): Karena Jackson-Brown, age 28 of San Bernardino
Mariah Jackson, age 54 of Hesperia
Summary
On Wednesday, January 18, 2017, at approximately 3:42 P.M. deputies from the Hesperia Sheriff's Station were dispatched to the 16300 block of Main Street in regards to a female, Karena Jackson-Brown, attempting to take her biological 3 month old infant from foster care.
 
Through investigation it was learned that Jackson-Brown was at New Beginning doing a routine supervised visit. Jackson-Brown decided she wanted to take her child and fled toward the door. With the aid of her mother, Mariah Jackson, Jackson-Brown was able to exit the facility. Jackson-Brown with the infant got into the passenger's side of their vehicle, while Mariah Jackson got into the driver's seat and attempted to leave.
 
The staff members of the facility were able to stop the vehicle from leaving the parking lot causing Jackson-Brown to get out of the vehicle with her infant and flee on foot. When a failed attempt to cross the road occurred, Jackson-Brown walked back toward the facility. Staff members confronted Jackson-Brown and attempted to regain custody of the infant. During this time Jackson-Brown started swinging her body back and forth.
 
There were no visible signs of injury caused to the infant, but medical personnel were requested and the infant was transported by ambulance to a local hospital as a precaution.
 
Both Karena Jackson-Brown and her mother, Mariah Jackson, are being charged with P.C 207(a), Kidnapping and P.C. 273A(a), Cruelty to a child.
 
Refer: Jackie Chambers, Media Relations
Station: Hesperia
Phone No. 760-947-1549
Case No.191700489
John McMahon, Sheriff-Coroner
San Bernardino County Sheriff-Coroner Department
Sheriff's Public Affairs Division
655 E. Third Street
San Bernardino, California 92415-0061
Telephone: (909) 387-3700