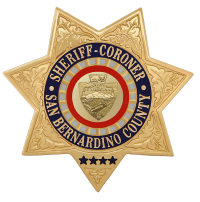 San Bernardino County Sheriff's Department
Press Release
DATE/TIME: January 29, 2017, at 6:45 P.M
INCIDENT: Injury Hit and Run Traffic Collision
LOCATION: Seventh Avenue / Sequoia Street, Hesperia
SUSPECT(S): Unknown
VICTIM: 42-Year-old Male, out of Hesperia
Summary
On January 29, 2017, at approximately 6:45 P.M, deputies with the Hesperia Sheriff's Station were dispatched to the area of Seventh Avenue and Sequoia Street with reports of a vehicle versus pedestrian.
While Deputies were en-route to the location, information was provided that the vehicle that collided with the pedestrian had left the scene. Deputies arrived on scene and located the victim, a 42-year-old male, lying on the ground with major injuries. Through investigation, deputies determined the vehicle involved was an older model "box shape" sedan, which fled the scene southbound on Seventh Avenue.
An extensive area check was conducted. However, deputies were unable to locate a vehicle matching the description of the suspect vehicle. With the injuries, the victim sustained the suspect vehicle will possibly have damage to the front bumper, hood, and windshield.
The victim was airlifted to a trauma center, and is in critical condition but is expected to survive.
The Hesperia Sheriff's Station is asking for the public's help. If you have any information about this collision or possible suspect information, please contact the Hesperia Sheriff's Station at 760-947-1500 or Sheriff's Dispatch at 760-956-5001 or remain anonymous by calling We Tip at 800-78-CRIME.
Refer:       Jackie Chambers, Media Relations
Station: Hesperia
Phone No.   760-947-1549
Case No.191700745
John McMahon, Sheriff-Coroner
San Bernardino County Sheriff-Coroner Department
Sheriff's Public Affairs Division
655 E. Third Street
San Bernardino, California 92415-0061
Telephone: (909) 387-3700