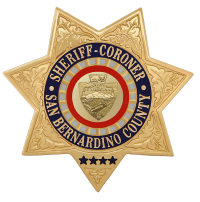 San Bernardino County Sheriff's Department
Press Release
DATE/TIME: January 16, 2017 / 11:04 P.M.
INCIDENT: PC 245(a)(1) – Assault W/ a Deadly Weapon LOCATION: Victoria Ave / 14th St. Highland SUSPECT(S): Unk VICTIM(S): Confidential
Summary
On January 16th, at approximately 11:04 p.m., deputies received a report of a victim suffering from a gun shot wound at St. Bernardine's Medical Center. The victim reportedly had been shot after she was involved in an altercation with a Hispanic male and female. The incident occurred at approximately 10:45 p.m., near the intersection of Victoria Avenue and 14th Street in Highland.
Anyone who may have information on this case is asked to contact the Highland Police Department at (909) 425-9793. Callers wishing to remain anonymous can call the We-Tip Hotline at 1-800-78CRIME (27436) or you may leave information on the We-Tip website at www.wetip.com   Refer: Deputy J. Moon Station: Highland Station Phone No.909 425-9793 Case No.131700223
John McMahon, Sheriff-Coroner
San Bernardino County Sheriff-Coroner Department
Sheriff's Public Affairs Division
655 E. Third Street
San Bernardino, California 92415-0061
Telephone: (909) 387-3700