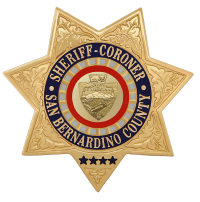 San Bernardino County Sheriff's Department
Press Release
DATE/TIME: Sunday December 31, 2017 at about 3:05 pm
INCIDENT: Standoff and Convicted felon in possession of body armor, high capacity mags, and meth
LOCATION: 7400 block of Lynwood Way, Highland
SUSPECT(S): Jason Brandon Scott, 33-year-old resident of Highland
Summary
Deputies from the Highland Station responded to a shooting in progress in the 7400 block of Lynwood Way in Highland. During the investigation, it was learned Scott was firing a rifle and ran inside his home. With the assistance of Sheriff's Aviation, Central Station units, and Sheriff's Specialized Enforcement Division, a perimeter was set and Scott was surrounded. Highland Deputies were able to begin negotiations with Scott during the standoff. He barricaded himself in the home and refused to come out. During the standoff, Scott's girlfriend came to the scene and confirmed he was in the home with her 4 month old baby boy. Deputies could hear the baby crying inside the home. Fearing for the baby's safety, Deputies negotiated with Scott and were able to get the baby released to them unharmed and uninjured. Paramedics examined the baby at the scene and the boy was reunited with his mother.
However, Scott remained barricaded in the home. After continued negotiations, Scott surrendered and was taken into custody without incident. After service of a search warrant, Scott, a convicted felon, was found to be in possession of body armor, high capacity magazines, and several hundred rounds of ammunition. Investigators are actively searching for the rifle. Scott was arrested and booked at the Central Detention Center and is being held on $100,000 bail.
Anyone with information on this case is asked to contact Deputy R. Olivares of the Highland Police Department at (909) 425-9793. Callers wishing to remain anonymous are urged to call the We-Tip Hotline at 1-800-78CRIME (27436) or you may leave information on the We-Tip website at www.wetip.com.
Refer: Deputy R. Olivares
Station: Highland Station
Phone No. (909) 425-9793
Case No. 131705357
John McMahon, Sheriff-Coroner
San Bernardino County Sheriff-Coroner Department
Sheriff's Public Affairs Division
655 E. Third Street
San Bernardino, California 92415-0061
Telephone: (909) 387-3700