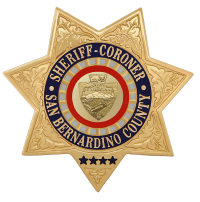 San Bernardino County Sheriff's Department
Press Release
DATE/TIME: December 27, 2017 / 3:29 pm
INCIDENT: Felony Evading (CVC 2800.2)
LOCATION: Central Ave / Cypress Street, City of Highland
SUSPECT(S): Gerson Contreras, age 18a resident of Highland
Summary
On Wednesday, December 27, 2017, at 3:29 p.m., Deputy Moon attempted to conduct a traffic stop on GMC pick-up after he observed the vehicle driving recklessly. The vehicle failed to yield and fled at a high rate of speed west on Cypress Street and continued northbound on Victoria Avenue. The driver led deputies on a pursuit for several minutes through Highland. At one point, the pursued vehicle struck another motorist in the area of Baseline Street and Boulder Avenue. The pursued vehicle continued through city streets until the driver lost control and struck the west curb line at Orchard Road and Terrace Drive.
After striking the curb, the vehicle continued into the open field west of Orchard Road and became disabled. The driver, identified as Gerson Contreras, was taken into custody at the pursuit termination point. The vehicle was found to have been stolen earlier that day from an auto action in the city of San Bernardino. Contreras was transported and booked into the West Valley Detention Center for CVC 2800.2 (Felony Evading), CVC 10851 (Grand Theft Auto), and PC 496(d) (Possession of Stolen Property). The motorist involved in the collision during the pursuit was contacted by deputies and found to be uninjured.
Anyone with information regarding this incident is urged to contact the Sheriff's Highland Station (909) 425-9793. Callers wishing to remain anonymous are urged to call the We-Tip Hotline at 1-800-78-CRIME (27463) or you may leave information on the We-Tip Hotline at www.wetip.com.
Refer: Deputy J. Moon
Station: Highland Station
Case #: 131705287
Phone No. 909-425-9793
John McMahon, Sheriff-Coroner
San Bernardino County Sheriff-Coroner Department
Sheriff's Public Affairs Division
655 E. Third Street
San Bernardino, California 92415-0061
Telephone: (909) 387-3700