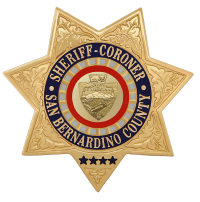 San Bernardino County Sheriff's Department
Press Release
DATE/TIME: Sunday February 12, 2017 11:05 a.m.
INCIDENT: Possession of a Stolen Vehicle and Hit and Run
LOCATION: 7200 block of Palm Ave in the City of Highland
SUSPECT: Jacob Brugos, 26, transient in San Bernardino
Summary
On Sunday, February 12, 2017 at 11:05 a.m. Brugos was seen by several motorists driving a white 1996 Acura and traveling at a high rate of speed eastbound on Baseline. Brugos lost control of the vehicle and crashed into several mailboxes, bushes, and a block wall of a business near the intersection of Palm Ave/Foster Ave. He fled the scene on foot and was detained by several witnesses at a nearby Bakers Restaurant. Highland Deputies took Brugos into custody and arrested him for the hit and run. The vehicle he was driving was found to be stolen. Brugos was booked at West Valley Detention Center and is being held on $50,000 bail and an outstanding arrest warrant.
Anyone with information on this case is asked to contact Deputy M. Kassis of the Highland Police Department at (909) 425-9793. Callers wishing to remain anonymous are urged to call the We-Tip Hotline at 1-800-78CRIME (27436) or you may leave information on the We-Tip website at www.wetip.com.
Refer:Deputy M. Kassis
Station: Highland Station
Phone No.(909) 425-9793
Case No. 131700591
John McMahon, Sheriff-Coroner
San Bernardino County Sheriff-Coroner Department
Sheriff's Public Affairs Division
655 E. Third Street
San Bernardino, California 92415-0061
Telephone: (909) 387-3700