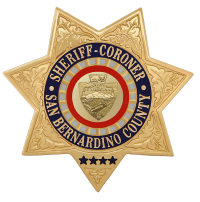 San Bernardino County Sheriff's Department
Press Release
DATE/TIME: November 16, 2017 3:26 p.m.
INCIDENT: Narcotic and Weapon Violations
LOCATION: Central Avenue/Stratford Street, Highland
SUSPECT: Julius Armon, 28 years old, resident of Highland
Summary
On Thursday, November 16, 2017 at 3:26 p.m., Deputy Ramstad conducted a traffic stop on a vehicle driven by Julius Armon, for a vehicle code violation. As Ramstad approached the vehicle, he noticed Armon reaching around on the floor board. Ramstad saw a hand gun on the floor board and immediately detained Armon. During a search of the vehicle, Ramstad found evidence of marijuana and narcotic sales, along with a fake baton and an additional loaded magazine.
Armon was arrested and booked at Central Detention Center with bail set at $50,000.
Anyone with information should contact the Highland Police Station at (909)425-9793 or remain anonymous and contact WeTip at (800)78-CRIME or www.wetip.com.
Refer: Dep. Ramstad
Station: Highland
Case #: 131704632
Phone No. (909)425-9793
John McMahon, Sheriff-Coroner
San Bernardino County Sheriff-Coroner Department
Sheriff's Public Affairs Division
655 E. Third Street
San Bernardino, California 92415-0061
Telephone: (909) 387-3700