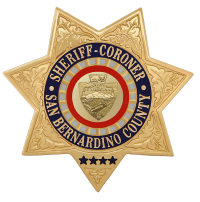 San Bernardino County Sheriff's Department
Press Release
DATE/TIME: December 31, 2016 / 11:40 pm
INCIDENT: Negligant Discharge of a Firearm on New Year's Eve
LOCATION: Domino's Pizza – 24900 block of 3rd Street, Highland
SUSPECT(S): Joel Rocha, age 34 a resident of San Bernardino
VICTIM(S): Confidential
Summary
On December 31, 2016, at approximately 11:40 pm., a Hispanic male adult was seen shooting several rounds into the air from a black semi-automatic handgun in front of the Domino's on 3rd Street in Highland. Two juveniles and a Domino's employee were near the suspect when he shot the firearm. Unfortunately, the shooting was not reported until the following morning. On January 1, 2017, surveillance footage was retrieved that clearly showed the suspect shooting the firearm and the vehicle he fled in. During a check of the neighborhoods in the area, deputies located a vehicle matching the suspect's vehicle. Following a traffic stop, the driver, Joel Rocha, fit the description of the shooting suspect and was wearing the exact same clothing as seen in the surveillance video.
During a search of Rocha, deputies located several rounds of live ammunition that matched the same make and caliber as the spent casings found at the scene of the shooting. During a search of Rocha's vehicle, deputies located a black handgun concealed in the engine compartment. The firearm was loaded and had a serial number which appeared to have been scratched off. Witnesses confirmed Rocha was the suspect that had discharged the handgun the night before.
Joel Rocha was booked into Central Detention Center for negligent discharge of a firearm likely to produce great bodily injury or death and for altering a firearm's serial number. Rocha is being held on $50,000 bail.
Anyone with additional information is urged to contact the Highland Police Department at (909) 425-9793. Callers wishing to remain anonymous can call 1-800-78-CRIME or online at www.wetip.com.
Refer:Deputy J. Ramstad / Sergeant Ryan Collins
Station:Highland Station
Phone No.(909) 425-9793
Case No.131700002
John McMahon, Sheriff-Coroner
San Bernardino County Sheriff-Coroner Department
Sheriff's Public Affairs Division
655 E. Third Street
San Bernardino, California 92415-0061
Telephone: (909) 387-3700