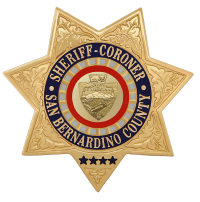 San Bernardino County Sheriff's Department
Press Release
DATE/TIME: September 13, 2017
INCIDENT: Human Trafficking/ Sexual Exploitation of a Minor Arrest
LOCATION: 668 Fairway Dr., San Bernardino
SUSPECT(S): Robert Westbrook "Bones Da P", 28-year-old resident of San Bernardino
VICTIM(S): Confidential Female Juvenile and Female Adult
Summary
On September 13, 2017, Investigators assigned to the San Bernardino County Human Trafficking Task Force, assisted the San Bernardino Police Department with an investigation regarding the sexual exploitation of a minor. San Bernardino Officers observed the victim loitering in the area of West 10 Street and North G Street. Officers detained the female for loitering with the intent to commit prostitution. During the contact, Officers determined the victim was in fact a minor and a reported runaway out of Riverside County. Human Trafficking Investigators assisting in the investigation determined the minor was involved in commercialized prostitution and a victim of Human Trafficking. Investigators identified Robert Westbrook, aka "Bones Da P" of San Bernardino as the victim's trafficker. Westbrook was located and arrested at a motel located on the border of the cities of San Bernardino and Colton. During his arrest, a second victim was located and interviewed. As a result, Investigators determined she was also a victim of commercialized prostitution and Human Trafficking by Westbrook. Both victims were rescued, taken to a safe location, and provided services. The juvenile victim was released to the Los Angeles County Family and Child Services Investigators to be safely returned home. Westbrook was transported to the Central Detention Center and booked for multiple felonies related to pimping, pandering, sexual exploitation of a minor, and human trafficking. A bail increase in the amount of $1,000,000 was granted by a San Bernardino County Superior Court Judge.
The mission of the San Bernardino County Human Trafficking Task Force is to further the identification, investigation, and prosecution of individuals or criminal enterprises who are committing crimes related to human trafficking and to facilitate the identification, rescue, and rehabilitation of victims associated with such activity.
Investigators are asking for the public's help in locating additional victims. Anyone with information pertaining to this case is urged to contact Investigator Jose Guzman or Corporal Nick Lefler at 909-890-4840. Callers wishing to remain anonymous may call the "We-Tip Hotline" at 800-78-CRIME (27463) or utilize the "We-Tip" website at www.wetip.com.
Booking photo available: https://local.nixle.com/alert/6160083/
Refer: Public Affairs
Phone No.: (909) 387-3700
Case No. 621700333
John McMahon, Sheriff-Coroner
San Bernardino County Sheriff-Coroner Department
Sheriff's Public Affairs Division
655 E. Third Street
San Bernardino, California 92415-0061
Telephone: (909) 387-3700