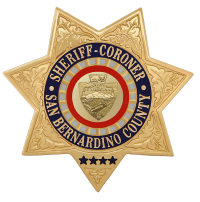 San Bernardino County Sheriff's Department
Press Release
DATE/TIME: November 13, 2017 / 2:45 p.m.
INCIDENT: Felon in Possession of Ammunition
LOCATION: 6000 block of Mt. Shasta Ave, Joshua Tree
SUSPECT(S): Anthony Thomas Burkins, 29 years, resident of Joshua Tree
Summary
On Monday, November 13, 2017, at approximately 2:45 p.m., the Yucca Valley Multiple Enforcement Team conducted a probation compliance check at a residence on the 6000 block of Mt. Shasta Ave in Joshua Tree. During a search of the residence, Anthony Burkins was contacted and found to be in possession of several rounds of ammunition.
Burkins is a convicted felon on active probation and was arrested for PC 30305(a)(1) – Felon in Possession of Ammunition. He was booked into the Morongo Basin Jail in lieu of $35,000 bail. In addition, he was booked for probation violations with a no bail hold.
Anyone with information related to this investigation is asked to contact the San Bernardino County Sheriff's Department Morongo Basin Station at (760)366-4175. Anyone wishing to remain anonymous may contact We-Tip at 1-888-78-CRIME.
Problem Oriented Policing is a specialized position within the Town of Yucca Valley's Police Department. Deputies Efrain Herrera and Robert Moreno are currently assigned to this full time position. The primary focus of "Problem Oriented Policing" is to provide solutions to law enforcement related issues that adversely affect the citizens who live, work and visit the Town of Yucca Valley.
Refer: Deputy E. Herrera & Deputy R. Moreno
Station: Morongo Basin Station
Case #: 09170 1578
Phone No. (760) 366-4175
John McMahon, Sheriff-Coroner
San Bernardino County Sheriff-Coroner Department
Sheriff's Public Affairs Division
655 E. Third Street
San Bernardino, California 92415-0061
Telephone: (909) 387-3700