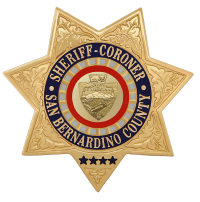 San Bernardino County Sheriff's Department
Press Release
DATE/TIME: Wednesday, December 12, 2017 / 21:38 Hours
INCIDENT: Search and Rescue
LOCATION: Bonita Falls, Lytle Creek
INVOLVED PARTIES: Sean Delgado, 24-year-old resident of Hesperia, Isaiah Carter, 22-year -old resident of San Bernardino, Eric Carter, 19-year-old resident of Alta Loma, and Gregory Etheredge, 30-year-old resident of Alta Loma
Summary
On Wednesday, December 12, 2017, at approximately 1:00p.m., Sean Delgado, Isaiah Carter, Eric Carter, and Gregory Etheredge went for a day hike in the Bonita Falls area of Lytle Creek. They ascended the mountain to the falls where they spent several hours.
When the four hikers started their decent down the mountain Sean Delgado became stranded on a rocky ledge and was unable to continue hiking. He used his cell phone to call the San Bernardino County Sheriff's Department to request help. While he waited for help to arrive, he held onto a tree to prevent sliding down the mountain.
The remaining 3 hikers continued to hike down the mountain and returned to their vehicle where they found Deputy R. Williams waiting for them. Deputy Williams requested the San Bernardino County patrol helicopter respond to the area to assist with the call. Upon the arrival of patrol helicopter and its crew it was determined the Air Rescue helicopter and the Search and Rescue team would be needed to conduct the rescue.
The West Valley Search and Rescue Team and the Air Rescue Helicopter were contacted and responded to the call. The Rescue helicopter and its crew located Delgado and safely hoisted him off of the mountain. He was flown to a nearby landing zone where the West Valley Search and Rescue team was waiting for him. He was medically evaluated and reunited with his friends. All four hikers were provided food and water then driven back to their vehicle.
The West Valley Search & Rescue team and San Bernardino County Sheriff's Department would like to remind all hikers to have the appropriate clothing, food, water, gear and the 10 essentials when hiking in the wilderness.
Refer: Deputy J. Thorp
Station: Fontana Sheriff's Station
Phone No. 909-356-6767
Case No. 031703434
John McMahon, Sheriff-Coroner
San Bernardino County Sheriff-Coroner Department
Sheriff's Public Affairs Division
655 E. Third Street
San Bernardino, California 92415-0061
Telephone: (909) 387-3700