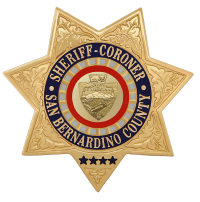 San Bernardino County Sheriff's Department
Press Release
DATE/TIME: December 20, 2017 / 4:00 p.m.
INCIDENT: Missing Person
LOCATION: 1300 block of Crafton Ave. Mentone
VICTIM: Joshua Adam Puckett, 45 years old, resident of Mentone
Summary
UPDATE:
On Tuesday, January 2, 2018, Yucaipa Detectives were contacted by staff at Loma Linda University Medical Center and advised that Joshua Puckett was hospitalized following a traffic collision. No additional information about Puckett's condition is being released as it is confidential.
Many thanks to all media outlets for sharing this information. On December 20, 2017 Joshua Puckett left his residence in the city of Mentone driving a grey, 2003 Toyota Echo 4 door vehicle. Puckett left his residence with only $20.00 cash and left behind his cellular phone, credit cards and debit card.Puckett lives with his girlfriend and she did not know of any reason to explain his disappearance. The vehicle Puckett is driving is a company owned vehicle registered to his employer. Puckett's employer did not have any information to his whereabouts and he had not shown up to work for two weeks prior to his disappearance. Puckett has family in Arizona who also have not had any contact with him since his disappearance.
*************************
Puckett is described as a white male adult, 5'11", weighing 205 lbs. He is bald with blue eyes, and has a tattoo of a rose with a heart around it on his right forearm, and an emblem of a Bacardi Bat on his right thigh. Puckett was last seen wearing a red flannel shirt, blue jeans and a black hat bearing the Monster Energy green emblem.
Investigators from the San Bernardino County Sheriff's Department Yucaipa Station are seeking the public's help with any information which could lead to locating Puckett. Anyone with information regarding this investigation is encouraged to contact Detective Madril of the Yucaipa Sheriff's Station at (909) 918-2005. Callers wishing to remain anonymous are urged to call the We-Tip Hotline at 1-800-78-CRIME (27463) or you may leave information on the We-Tip Hotline at www.wetip.com.
Photo available at: https://local.nixle.com/alert/6332685/
Refer:Detective M. Madril
Station:Yucaipa
Phone No.(909) 918-2005
Case No.041700810
John McMahon, Sheriff-Coroner
San Bernardino County Sheriff-Coroner Department
Sheriff's Public Affairs Division
655 E. Third Street
San Bernardino, California 92415-0061
Telephone: (909) 387-3700