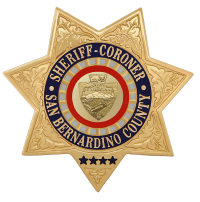 San Bernardino County Sheriff's Department
Press Release
DATE/TIME: January 8, 2017, 8:30 p.m.
INCIDENT:Armed Robbery/ Felony Evading
LOCATION:Highway 247/ New Dixie Mine Road, Landers
SUSPECT(S): Michael Riddle,19 year old resident of Landers
Albert Villarreal, 23 year old resident of Landers
Summary
On Sunday, January 8, 2017, at approximately 8:30 p.m., deputies responded to a report of an armed robbery, in the area of Highway 247 and Dixie Mine Road in Landers. The victim was on the side of the road, working on his broken down vehicle. Michael Riddle and Albert Villarreal approached the victim and stole his car battery and a bag of tools. When the victim tried to stop them, Riddle brandished a firearm at him. Riddle and Villarreal fled the scene in a dark colored Volvo.
At approximately 10:10 p.m., deputies located the vehicle traveling south on Highway 247, occupied by Riddle and Villarreal. When deputies attempted to stop the vehicle, Riddle and Villarreal led deputies on a high speed pursuit, for approximately 15 miles, through Landers and Yucca Valley. Riddle and Villarreal drove into the Apache Mobile Home Park, located at 56254 Twentynine Palms Highway, where they fled from the vehicle on foot. After a short foot pursuit, both subjects were located and arrested.
Riddle was booked at the Morongo Basin Jail, and is being held without bail, for a probation violation, robbery, and felony evading. Villarreal was booked at the Morongo Basin Jail, and is being held on $225,000 bail, for robbery, and bringing a control substance into a jail facility.
Anyone with information related to the investigation is asked to contact the San Bernardino County Sheriff's Department Morongo Basin Station at (760)366-4175. Anyone wishing to remain anonymous may contact We-Tip at 1-888-78-CRIME.
Refer:Deputies A. Cantu or R. Rodriguez
Station: Morongo Basin Station
Case #: 091700042
Phone No. (760) 366-4175
John McMahon, Sheriff-Coroner
San Bernardino County Sheriff-Coroner Department
Sheriff's Public Affairs Division
655 E. Third Street
San Bernardino, California 92415-0061
Telephone: (909) 387-3700