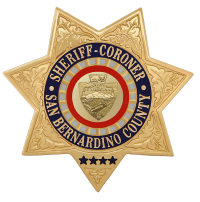 San Bernardino County Sheriff's Department
Press Release
DATE/TIME: January 13, 2017, 8:50 p.m.
INCIDENT:Armed Robbery
LOCATION:61794 Twentynine Palms Highway, Joshua Tree
SUSPECT: Christian Sutalo, 19-year-old resident of Joshua Tree
Summary
On Friday, January 13, 2017 at approximately 8:50 p.m., deputies responded to a report of an armed robbery at the Valero Gas Station in Joshua Tree. The victim was pumping gas at the location, and was approached by Christian Sutalo, who was armed with a gun and demanded money. Sutalo took money from the victim and fled the location on foot.
A short time later, deputies located Sutalo in the 6600 block of Easterly Drive in Joshua Tree. Sutalo was arrested and booked at the Morongo Basin Jail and is being held on $100,000 bail for armed robbery.
Anyone with information related to the investigation is asked to contact the San Bernardino County Sheriff's Department Morongo Basin Station at (760) 366-4175. Anyone wishing to remain anonymous may contact We-Tip at 1-888-78-CRIME.
Refer:Deputies A. Cantu or R. Rodriguez
Station: Morongo Basin Station
Case #: 091700070
Phone No. (760) 366-4175
John McMahon, Sheriff-Coroner
San Bernardino County Sheriff-Coroner Department
Sheriff's Public Affairs Division
655 E. Third Street
San Bernardino, California 92415-0061
Telephone: (909) 387-3700