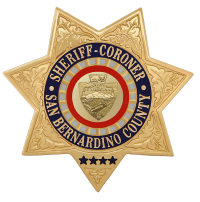 San Bernardino County Sheriff's Department
Press Release
DATE/TIME: December 28, 2017, 2:45 p.m.
INCIDENT: PC 496(a) Receiving Stolen Property
LOCATION: 63665 Twentynine Palms Highway, Joshua Tree
SUSPECT(S): Glen Stephens, 28-year- old resident of Yucca Valley
Summary
On Thursday, December 28, 2017 at approximately 2:45 p.m., Glen Stephens went to the Morongo Basin Probation Department to check in at the probation office. Morongo Basin Station deputies learned Stephen's vehicle had stolen rims and tires as well as a stolen hood. Deputies confirmed the items were stolen from a grand theft auto that occurred in the City of Twentynine Palms, they also located additional stolen property inside his vehicle.
The investigation led deputies to a residence at the 65000 block of Giant Rock Road in Joshua Tree where they located additional stolen property belonging to the victim's vehicle.
Glen Stephens was arrested for violation of his terms of probation and PC 496(a) receiving stolen property. The stolen property was returned to the victim and Stephens' vehicle was towed.
Anyone with information related to the investigation is asked to contact Deputy R. Arthurton with the Morongo Basin Station at (760) 366-4175. Anyone wishing to remain anonymous may contact We-Tip at 1-888-78-CRIME.
Refer: Deputy R. Arthurton
Station: Morongo Basin Station
Case #: 091701825
Phone No. (760) 366-4175
John McMahon, Sheriff-Coroner
San Bernardino County Sheriff-Coroner Department
Sheriff's Public Affairs Division
655 E. Third Street
San Bernardino, California 92415-0061
Telephone: (909) 387-3700