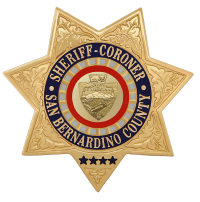 San Bernardino County Sheriff's Department
Press Release
DATE/TIME: December 27, 2017/ 2:00 p.m.
INCIDENT: PC 273a(a) Child Endangerment
LOCATION: 500 Block R. Street, Needles
SUSPECT(S): Amanda Jean Hancock, 32 yrs old from Needles
VICTIM(S): CONFIDENTIAL
Summary
On Wednesday, December 27, 2017, deputies from the Colorado River Station/Needles Police Department received a request from the San Bernardino County Department of Child and Family Services to check the welfare of three minor children who were living in a home in the 500 block of R. Street in Needles. The referral indicated poor living conditions for the children in the home as well as concerns that the parent of the children was addicted to narcotics.
While at the home Deputy Yates contacted Amanda Hancock, the mother of the three children, who was displaying objective signs that she was under the influence of a controlled substance. Further investigation revealed that the home, a three bedroom one bath single family residence, was without water service. While in the home it was discovered that the living conditions were so deplorable that it was unsafe to allow the children to continue living in the home.
Each room of the home contained broken furniture and trash debris scattered about. There were no usable beds in the home for the children to sleep on. Each room was infested with insect activity and was covered in animal feces and urine. There were nine dogs of different breeds and 12 cats living within the home. Because there was no running water, the toilette was filled with feces and urine. All counter tops and oven tops were covered in rancid food debris. The homes only refrigerator was not functioning and contained spoiled and rotten food products. The entire home smelled of rancid and spoiled food and feces and urine.
Deputy Yates placed Amanda Hancock under arrest and contacted Child and Family Services who responded and took custody of the three children. The City of Needles Animal Control responded and took possession of the animals in the home.
Hancock was booked at the Needles jail for child endangerment. Her bail was set at $100,000.
For press releases, news, and information follow the Colorado River Station on Twitter at: @CORiverStation
John McMahon, Sheriff-Coroner
San Bernardino County Sheriff-Coroner Department
Sheriff's Public Affairs Division
655 E. Third Street
San Bernardino, California 92415-0061
Telephone: (909) 387-3700