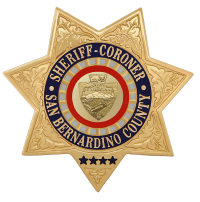 San Bernardino County Sheriff's Department
Press Release
DATE/TIME OF INCIDENT: October 31, 2017, at 8:12pm
INCIDENT: ATTEMPT MURDER/ CONSPIRACY
SUSPECT: Montel Smith, 21, of Silver Lakes
Summary
On October 31, 2017, at approximately 8:12pm, deputies from Victor Valley Sheriff's Station received several 911 calls regarding 4 to 5 black males breaking windows of vehicles in the area of Blue Water and Corona in Silver Lakes.
Some of the victims and witnesses attempted to detain the suspects and a fight ensued. One of the suspects, Montel Smith, swung a hammer at several of the victims, while other suspects assaulted other victims with wood sticks. Several victims were able to hold Smith down in an attempt to detain him until law enforcement arrived. While holding him down, one of the victims was stabbed in the back by one of the suspects. When deputies arrived on scene, Smith was taken into custody without further incident. All of the unidentified suspects ran from the scene. San Bernardino County Sheriff's K-9 "Raider" was deployed. Raider located articles of clothing the suspects shed; however, no other suspects were located.
Montel Smith is currently being held at the High Desert Detention Center in lieu of $1,000,000.00 bail. The stabbing victim was airlifted to the hospital where he is listed in critical, but stable condition.
Anyone with information regarding this crime is urged to contact at Detective Scott Chapdelaine at Victor Valley Sheriff's Station, (760) 552-6800. Persons wishing to remain anonymous can report information to WeTip by calling 1-800-78-CRIME, or by accessing the website at www.wetip.com.
Refer: Staci Parks
Station: Victor Valley
Report # 0717034191
Phone No: 760-552-6844
John McMahon, Sheriff-Coroner
San Bernardino County Sheriff-Coroner Department
Sheriff's Public Affairs Division
655 E. Third Street
San Bernardino, California 92415-0061
Telephone: (909) 387-3700