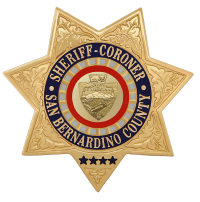 San Bernardino County Sheriff's Department
Press Release
DATE/TIME: October 31, 2017/ 1:30 pm
INCIDENT: Assault with a Deadly Weapon
LOCATION: Archibald Avenue and 19th Street, Rancho Cucamonga
SUSPECT: Anthony Miano 20-year-old male from Rancho Cucamonga
Summary
On Tuesday, October 31, 2017, at approximately 1:30 pm, deputies from the Rancho Cucamonga Police Department responded to the report of a possible road rage incident near the intersection of Archibald Avenue and 19th Street, Rancho Cucamonga.
The victim contacted Sheriff's Dispatch reference a vehicle driving erratically. When the victim confronted the occupants of the vehicle about their driving, the passenger Anthony Miano exited the vehicle and approached the victim while brandishing a hunting knife. The victim re-entered his vehicle and drove out of the parking lot. However, before the victim could exit the parking lot, Miano threw the hunting knife at the victim's vehicle shattering the back window
Additional witnesses of this incident immediately contacted Sheriff's Dispatch and provided a good description of the suspect vehicle. Responding deputies located the suspect vehicle near the intersection of Hermosa Avenue and Baseline Road and conducted a traffic stop.
Miano was taken into custody and arrested for Assault with a Deadly Weapon. He was booked into the West Valley Detention Center, and his bail was set at $50,000.
Anyone with information regarding this incident is urged to contact the Rancho Cucamonga Police Department at (909) 477-2800. Callers wishing to remain anonymous may contact the We-Tip Hotline at 1-800-78CRIME (27463), or you may leave information on the We-Tip website at www.wetip.com.
Refer: Deputy George Dorta
Station: Rancho Cucamonga Station
Case #: 111714338
Phone No. 909-477-2800
John McMahon, Sheriff-Coroner
San Bernardino County Sheriff-Coroner Department
Sheriff's Public Affairs Division
655 E. Third Street
San Bernardino, California 92415-0061
Telephone: (909) 387-3700