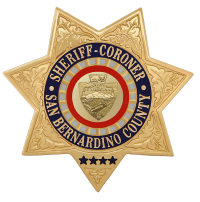 San Bernardino County Sheriff's Department
Press Release
DATE/TIME: Monday, October 30, 2017/ 9:30 am
INCIDENT: Attempted Murder
LOCATION: 9692 Haven Avenue, Rancho Cucamonga
SUSPECT: Ronrico Issacs 44-year-old male from Fontana
Summary
On Monday, October 30, 2017, at approximately 9:30 am, deputies from the Rancho Cucamonga Police Department responded to the report a domestic violence assault at 9692 Haven Avenue, Rancho Cucamonga.
Deputies arrived on scene and located the victim, unresponsive, with life-threatening injuries. The victim was immediately transported to a local area hospital where she remains in critical condition. Deputies discovered the victim and suspect, Ronrico Isaacs, were previously married, and Isaacs was issued a court-ordered restraining order preventing Isaacs from having any contact with the victim.
Isaacs confronted the victim at her work at approximately 9:15 am. During the confrontation, Isaacs stabbed the victim while she was near her vehicle. When the victim ran away from Isaacs, he entered his vehicle and drove towards the victim. Isaacs drove over a curb and onto the sidewalk striking the victim with his vehicle. Isaacs then fled the location in his vehicle before deputies arrived at the scene.
At approximately 7:00 pm, deputies located Isaacs in an Inglewood hotel. With the assistance from the San Bernardino County Specialized Enforcement Division (SED), Isaacs was taken into custody without incident. Soon after his arrest, deputies learned Isaacs ingested a large amount of medication, in an apparent suicide attempt. Isaacs was transported to a local area hospital for treatment. Once released, Isaacs will be booked into the West Valley Detention Center for Attempted Murder.
Anyone with information regarding this incident is urged to contact the Rancho Cucamonga Police Department at (909) 477-2800. Callers wishing to remain anonymous may contact the We-Tip Hotline at 1-800-78CRIME (27463), or you may leave information on the We-Tip website at www.wetip.com.
Refer: Detective Jason Whitsell
Station: Rancho Cucamonga Station
Case #: 111714289
Phone No. 909-477-2800
John McMahon, Sheriff-Coroner
San Bernardino County Sheriff-Coroner Department
Sheriff's Public Affairs Division
655 E. Third Street
San Bernardino, California 92415-0061
Telephone: (909) 387-3700