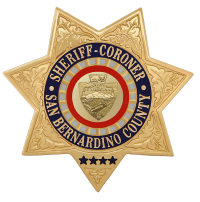 San Bernardino County Sheriff's Department
Press Release
DATE: September 27, 2017
INCIDENT: Craigslist Post Leads Deputies to Grand Theft Arrest
LOCATION: Rancho Cucamonga
SUSPECT: Jesus Uribe 22-year-old male from San Bernardino
Summary
In December of 2016, the Cucamonga Valley Water District reported two brass water meters were stolen from a construction site located in the 6600 block of East Avenue in the city of Rancho Cucamonga.
The stolen water meters were posted for sale on Craigslist several months later. The Craigslist post listed an email address and two cell-phone numbers. Deputy Bell of the Rancho Cucamonga Police Department authored search warrants on the two cell-phone numbers and an email address related to the Craigslist post. The respective cell-phone companies and email account were identified with the subscriber's information.
The search warrants led investigators to an address in the city of San Bernardino. The Rancho Cucamonga Detective Bureau and Multi Enforcement Team (MET) served a search warrant at a residence in the1600 block of Porter Street, San Bernardino, CA. At the conclusion of the investigation, Jesus Ivan Uribe was arrested for grand theft.
Anyone with information regarding this incident is urged to contact the Rancho Cucamonga Police Department at (909) 477-2800. Callers wishing to remain anonymous may contact the We-Tip Hotline at 1-800-78CRIME (27463), or you may leave information on the We-Tip website at www.wetip.com.
Refer: Deputy Mike Bell and Detective Chris Hughes
Station: Rancho Cucamonga Station
Case #: 111615599
Phone No. 909-477-2800
John McMahon, Sheriff-Coroner
San Bernardino County Sheriff-Coroner Department
Sheriff's Public Affairs Division
655 E. Third Street
San Bernardino, California 92415-0061
Telephone: (909) 387-3700