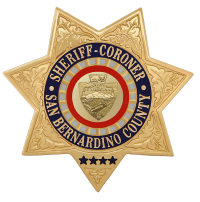 San Bernardino County Sheriff's Department
Press Release
DATE/TIME: Sunday, November 26, 2017/ 11:00 am
INCIDENT: Possession of a Stolen Vehicle, Commercial Burglary
LOCATION: 12549 E Foothill Blvd, Rancho Cucamonga
SUSPECT: Norman Gensemer 42-year-old male from Covina
Summary
On Sunday, November 26, 2016, at about 11:00 am, Deputy Miranda from the Rancho Cucamonga Police Department's Victoria Gardens Retail Theft Team, conducted extra patrol in the Walmart parking lot. Miranda saw an unoccupied vehicle parked near a store fire door and found the vehicle to be stolen. She confirmed the suspect to be Norman Gensemer. Miranda coordinated with additional deputies to effect a safe arrest in case Gensemer returned to the vehicle.
At 12:20 pm, Gensemer came out of the fire door of Walmart and got in to the stolen vehicle. Deputies surrounded the vehicle and positioned their patrol cars to prevent Gensemer from fleeing. Gensemer was removed from the vehicle and taken into custody. It was later confirmed that Gensemer stole over $1,200 of Walmart merchandise, was in possession of narcotics, drug paraphernalia, counterfeit $100 bills, and identity theft equipment.
Gensemer was arrested for possession of a stolen vehicle, commercial burglary, grand theft, and embezzlement. Gensemer was booked into West Valley Detention Center, and his bail was set at $50,000.
Anyone with information regarding this incident is urged to contact the Rancho Cucamonga Police Department at (909) 477-2800. Callers wishing to remain anonymous may contact the We-Tip Hotline at 1-800-78CRIME (27463), or you may leave information on the We-Tip website at www.wetip.com.
Refer: Deputy Nicole Miranda
Station: Rancho Cucamonga Station
Case #: 111715665
Phone No. 909-477-2800
John McMahon, Sheriff-Coroner
San Bernardino County Sheriff-Coroner Department
Sheriff's Public Affairs Division
655 E. Third Street
San Bernardino, California 92415-0061
Telephone: (909) 387-3700