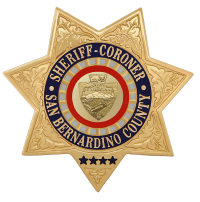 San Bernardino County Sheriff's Department
Press Release
DATE/TIME: Tuesday, December 12, 2017/ 2:10 pm
INCIDENT: Stolen Vehicle Arrest Leads MET Deputies to a Family in Need
LOCATION: Rancho Cucamonga
SUSPECT: Alan Johns 32-year-old male from Victorville
Summary
On Tuesday, December 12, 2017, at approximately 2:10 pm, deputies from the Rancho Cucamonga Police Department's Multiple Enforcement Team (MET), located a stolen vehicle near the area of Fourth Street and Milliken Avenue, Rancho Cucamonga. Deputies attempted a traffic stop. However, the driver Alan Johns failed to stop, and a short vehicle pursuit ensued. Deputies pursued Johns into the Ontario Mills Mall parking lot, where he was taken into custody after a brief foot pursuit.
Deputies discovered Johns was on Post Release Community Supervision (AB109). Johns was arrested for possession of a stolen vehicle and violation of PRCS orders. Johns was booked into the West Valley Detention Center, and he was issued a no-bail hold.
During their investigation, MET deputies discovered the recovered vehicle was stolen from the city of Victorville, and the owner was recently displaced from her home. A residential fire burned a large amount of her property, and she was forced to move in with a neighbor with her 3-year-old son.
On Wednesday, December 13, 2017, MET deputies arranged to have the victim's vehicle returned to her at no charge. MET additionally connected with RCPD's Crime Prevention Specialists and purchased gifts for both the victim and her son for the holidays. The Victorville Office of the California Highway Patrol also assisted and donated a new car seat and bicycle to the family.
Anyone with information regarding this incident is urged to contact the Rancho Cucamonga Police Department at (909) 477-2800. Callers wishing to remain anonymous may contact the We-Tip Hotline at 1-800-78CRIME (27463), or you may leave information on the We-Tip website at www.wetip.com.
To view the photo click on: nixle.us/9RGLT
Refer: Multiple Enforcement Team
Station: Rancho Cucamonga Station
Case #: 111716476
Phone No. 909-477-2800
John McMahon, Sheriff-Coroner
San Bernardino County Sheriff-Coroner Department
Sheriff's Public Affairs Division
655 E. Third Street
San Bernardino, California 92415-0061
Telephone: (909) 387-3700