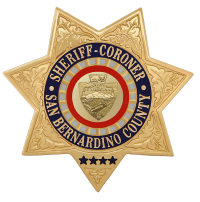 San Bernardino County Sheriff's Department
Press Release
DATE/TIME: Wednesday, September 27, 2017/ 2:00 pm
INCIDENT: Multiple Enforcement Team Arrest Known Gang Member for Violation of Court Order
LOCATION: Old Town Park
SUSPECT: Angel Marquez 30-year-old male from Rancho Cucamonga
Summary
On Wednesday, September 27, 2017, at approximately 2:00 pm, deputies from the Rancho Cucamonga Police Department responded to the report of a man with a gun at Old Town Park. Deputies arrived and located Angel Marquez who matched the description of the armed subject. When deputies attempted to contact Marquez, he immediately ran and scaled a wall into an adjacent apartment complex.
Deputies quickly established a perimeter, as additional deputies and Sheriff's Aviation searched for Marquez. Within minutes Marquez was located inside the apartment complex. Deputies assigned to the Multiple Enforcement Team (MET), determined Marquez was a Cucamonga King's gang member and registered on Cucamonga King's gang injunction. Marquez was arrested for violation of a court order and booked into the West Valley Detention Center. His bail was set at $50,000. Deputies were unable to find a firearm on Marquez or in the area he was located.
Anyone with information regarding this incident is urged to contact the Rancho Cucamonga Police Department at (909) 477-2800. Callers wishing to remain anonymous may contact the We-Tip Hotline at 1-800-78CRIME (27463), or you may leave information on the We-Tip website at www.wetip.com.
Refer: Deputy David Negron
Station: Rancho Cucamonga Station
Case #: 111712813
Phone No. 909-477-2800
John McMahon, Sheriff-Coroner
San Bernardino County Sheriff-Coroner Department
Sheriff's Public Affairs Division
655 E. Third Street
San Bernardino, California 92415-0061
Telephone: (909) 387-3700