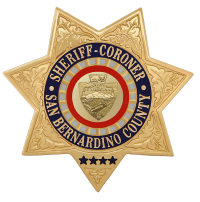 San Bernardino County Sheriff's Department
Press Release
DATE/TIME:December 27, 2017/ 6:20 a.m.
INCIDENT:Grand Theft from a Vehicle
Vehicle Burglary
Conspiracy to Commit a Crime
LOCATION:12900 block of Bartholow Drive, Rancho Cucamonga
SUSPECT:Awad Whair Zaben, 22 years-old from Fontana
Christopher Johnson, 19 years-old from Fontana
Summary
On December 27, 2017, at approximately 6:20 a.m., Deputies Daniel Berumen and Oscar Ramos from the Rancho Cucamonga Police Department responded to an in-progress vehicle burglary on Bartholow Drive. The reporting party advised dispatch a male subject was stealing items from a victim's vehicles. The male subject got into a blue Honda Civic driven by a male driver and fled the scene.
Dispatch relayed information to the responding deputies advising, the reporting party was following the suspect vehicle. The suspect vehicle was followed into the city of Fontana. The deputies arrived on scene and detained Awad Zaben and Christopher Johnson near their vehicle on Parsley Place in Fontana. Zaben and Johnson were positively identified as the suspects stealing items from the victim's vehicle and were quickly taken into custody. The deputies recovered over $5,000 in stolen items from inside the suspect vehicle.
Through investigation, deputies learned Zaben and Johnson entered other victim's locked vehicles and stole items from inside. Zaben and Johnson were both booked in at West Valley Detention Center for grand theft, vehicle burglary, and conspiracy to commit a crime. Their bails are $50,000 each.
Anyone with information regarding this investigation is urged to contact. Callers wishing to remain anonymous are urged to call the We-tip Hotline at 1-800-78-CRIME (27463), or you may leave information on the We-Tip Hotline at www.wetip.com.
Refer:Deputy Daniel Berumen
Deputy Oscar Ramos
Station: Rancho Cucamonga
Phone No. (909)477-2800
Case No. 111717211
John McMahon, Sheriff-Coroner
San Bernardino County Sheriff-Coroner Department
Sheriff's Public Affairs Division
655 E. Third Street
San Bernardino, California 92415-0061
Telephone: (909) 387-3700