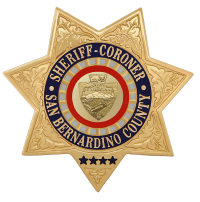 San Bernardino County Sheriff's Department
Press Release
DATE/TIME: December 19, 2017/ 2300
INCIDENT: Identity Theft
Conspiracy to Commit a Crime
LOCATION: 10900 block of Arrow Route
VICTIM: Multiple victims
SUSPECT: Dezron Terrell Daniel, 23 years-old from Colton
Tehani Angela Petcel, 35 years-old from Loma Linda
Summary
On December 19, 2017, at approximately 11:00 pm, Deputy Robert Harm, and Deputy Latara Smith were conducting a vehicle check on a vehicle that was parked near the US Post Office. The vehicle was occupied by Tehani Petcel and Dezron Daniel.
When the deputies approached the vehicle, they observed a large amount of mail in the back seat of the vehicle. Deputies learned the mail was taken out of the mail drop box at the nearby post office. Deputies believe the stolen mail was going to be used to commit identity theft. Deputy Harm and Deputy Smith located over ten victims of identity theft listed on the stolen mail.
Both Daniel and Petcel were subsequently arrested and transported to West Valley Detention Center. Daniel was booked for identity theft with a $50,000 bail, and Petcel was booked for conspiracy to commit a crime with a $2,500 bail.
Anyone with information regarding this investigation is urged to contact. Callers wishing to remain anonymous are urged to call the We-tip Hotline at 1-800-78-CRIME (27463), or you may leave information on the We-Tip Hotline at www.wetip.com.
Refer: Deputy Robert Harm
Deputy Latara Smith
Station: Rancho Cucamonga
Phone No. (909)477-2800
Case No. 111716882
John McMahon, Sheriff-Coroner
San Bernardino County Sheriff-Coroner Department
Sheriff's Public Affairs Division
655 E. Third Street
San Bernardino, California 92415-0061
Telephone: (909) 387-3700