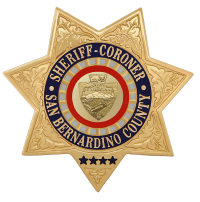 San Bernardino County Sheriff's Department
Press Release
DATE/TIME: December 23, 2017/ 9:30 p.m.
INCIDENT: Armed Robbery
LOCATION: 8001 Archibald Avenue
VICTIM: Pizza Hut
SUSPECT: Unidentified black male subject
Summary
On December 23, 2017, at approximately 9:30 p.m., deputies responded to an armed robbery at the Pizza Hut. Upon arrival, deputies learned a black male subject, wearing a black hooded sweatshirt, blue pants, black beanie and a white face mask, entered the Pizza Hut and brandished a silver handgun. The suspect ordered the employees to hand him the money inside the cash registers and safe. The employees complied with the suspects demands.
The suspect fled the scene with an undisclosed amount of money. It is unknown if the suspect fled on foot or in a vehicle. The suspect entered the Pizza Hut with several customers and employees inside.
Anyone with information regarding this investigation is urged to contact. Callers wishing to remain anonymous are urged to call the We-tip Hotline at 1-800-78-CRIME (27463) or you may leave information on the We-Tip Hotline at www.wetip.com.
Video available: https://www.youtube.com/watch?v=sOI2L4U3IO8&feature=youtu.be
Refer: Deputy Todd Johnson
Detective Jeromy Snyder
Station: Rancho Cucamonga
Phone No. (909)477-2800
Case No. 111717107
John McMahon, Sheriff-Coroner
San Bernardino County Sheriff-Coroner Department
Sheriff's Public Affairs Division
655 E. Third Street
San Bernardino, California 92415-0061
Telephone: (909) 387-3700