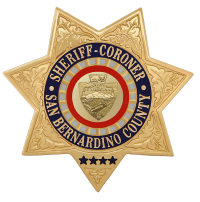 San Bernardino County Sheriff's Department
Press Release
DATE/TIME: Monday, November 13, 2017/ 12:30 am
INCIDENT: Possession of a Stolen Vehicle
LOCATION: Rancho Cucamonga
SUSPECT: Krystian Barnes 25-year-old male from Upland
Nicholaus Burden 22-year-old male Rancho Cucamonga
Giovanna Fernandez 23-year-old female from Greenly, CO
Summary
On Monday, November 13, 2017, at approximately 12:30 am, deputies from the Rancho Cucamonga Police Department, located a stolen vehicle near the intersection of Haven Avenue and Foothill Boulevard. The driver, Krystian Barnes, and two occupants, Nicholas Burden, and Giovanna Fernandez quickly recognized deputies approaching and accelerated eastbound on Baseline Road. Barnes lost control of the vehicle and collided with another vehicle traveling on Baseline Road. The suspects' vehicle careened over the center divider, flipping multiple times and came to rest in the westbound lanes.
Barnes, Burden, and Fernandez immediately exited the disabled vehicle and fled on foot. Burden and Fernandez were quickly taken into custody by deputies; however, Barnes disappeared into a nearby neighborhood. Barnes then coerced a passing motorist to drive him away from the area. When the motorist realized Barnes was avoiding arrest, he feared for his safety and stopped his vehicle. Barnes exited the vehicle and fled on foot to a neighboring apartment complex.
A concerned citizen noticed police activity in the area and located Barnes in his backyard. The citizen contacted Sheriff's Dispatch and directed pursuing deputies to Barnes' whereabouts. Barnes was located hiding inside a trash can and taken into custody without incident.
Barnes, Burden, and Fernandez were arrested for Possession of a Stolen Vehicle. Barnes was additionally charged with Kidnapping. All three were booked into the West Valley Detention Center. Burden and Fernandez's bail was set at $50,000, and Barnes' bail was set at $250,000.
Anyone with information regarding this incident is urged to contact the Rancho Cucamonga Police Department at (909) 477-2800. Callers wishing to remain anonymous may contact the We-Tip Hotline at 1-800-78CRIME (27463), or you may leave information on the We-Tip website at www.wetip.com.
Refer: Deputy Justin Applegate
Station: Rancho Cucamonga Station
Case #: 111715010
Phone No. 909-477-2800
John McMahon, Sheriff-Coroner
San Bernardino County Sheriff-Coroner Department
Sheriff's Public Affairs Division
655 E. Third Street
San Bernardino, California 92415-0061
Telephone: (909) 387-3700