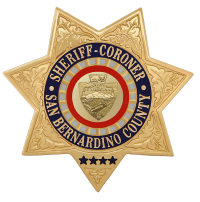 San Bernardino County Sheriff's Department
Press Release
DATE/TIME: December 26, 2017/ 7:45 p.m.
INCIDENT: Possession of a Stolen Vehicle
LOCATION: Arrow Route/ Haven Avenue, Rancho Cucamonga
SUSPECT: Dale Ivy, 45-year-old from Lancaster
Summary
On December 26, 2017, at approximately 7:45 p.m. Deputy David Johnson from the Rancho Cucamonga Police Department located a stolen vehicle traveling westbound at the intersection of Arrow Route and Haven Avenue. Deputy Johnson initiated a traffic stop on the stolen vehicle. The vehicle entered an apartment complex near the intersection and parked in a parking stall. Three subjects occupied the vehicle. Two subjects were detained at the vehicle and were later found not to be involved in the theft.
The driver of the stolen vehicle Dale Ivy fled the scene and ran into the adjoining apartment complex from where the stolen vehicle was parked. Responding deputies quickly set up a perimeter to contain Ivy in the area. Deputy Ryan Girard and K-9 Dare arrived at the scene to assist with locating Ivy. K-9 Dare tracked the suspect after she sampled a scent article that belonged to Ivy. Dare jumped a block wall and sat next to a tree alerting deputies Ivy was hiding in the tree.
Dale Ivy was subsequently arrested and booked into West Valley Detention Center for being in Possession of a Stolen Vehicle with a $50,000. Ivy also had an outstanding warrant.
Anyone with information regarding this investigation is urged to contact. Callers wishing to remain anonymous are urged to call the We-tip Hotline at 1-800-78-CRIME (27463) or you may leave information on the We-Tip Hotline at www.wetip.com.
Refer: Deputy David Johnson
Station: Rancho Cucamonga
Phone No. (909)477-2800
Case No. 111717201
John McMahon, Sheriff-Coroner
San Bernardino County Sheriff-Coroner Department
Sheriff's Public Affairs Division
655 E. Third Street
San Bernardino, California 92415-0061
Telephone: (909) 387-3700