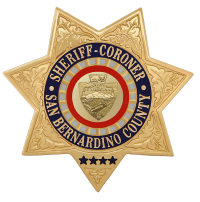 San Bernardino County Sheriff's Department
Press Release
DATE/TIME:January 21, 2017/5:30 pm
INCIDENT:Possession of a Stolen Vehicle/Possession of Controlled Substance
LOCATION:Deerbrook Street and Archibald Avenue
SUSPECT(S): Ryan Rymal 36-year-old male from Chino
Summary
On January 21, 2017, at approximately 5:30 pm, deputies from the Rancho Cucamonga Multiple Enforcement Team (MET) attempted a traffic stop on a vehicle near the intersection of Deerbrook Street and Archibald Avenue, Rancho Cucamonga. The vehicle, which was driven by Ryan Rymal, failed to yield and a vehicle pursuit ensued. Near the intersection of Meadow Street and Jadeite Avenue, Rymal jumped from the moving vehicle and attempted to flee on foot. The vehicle continued to travel a short distance before coming to rest in a nearby homeowner's scrub.
MET continued to pursue Rymal as he attempted to scale a fence but was unsuccessful. Rymal was ultimately detained after suffering an injury while trying to flee. MET located methamphetamine on Rymal and determined the vehicle he was driving was stolen from the city of Upland on December 14, 2016.
Rymal was arrested and booked into the West Valley Detention Center for possession of a stolen vehicle and possession of a controlled substance. Rymal's bail was set at $50,000.
Anyone with information regarding this incident is urged to contact the Rancho Cucamonga Police Department at (909) 477-2800.Callers wishing to remain anonymous may contact the We-Tip Hotline at 1-800-78CRIME (27463), or you may leave information on the We-Tip website at www.wetip.com
Refer:Multiple Enforcement Team
Station:Rancho Cucamonga Station
Case #:111701110
Phone No.909-477-2800
JOHN McMAHON, Sheriff-Coroner
San Bernardino County Sheriff-Coroner Department
John McMahon, Sheriff-Coroner
San Bernardino County Sheriff-Coroner Department
Sheriff's Public Affairs Division
655 E. Third Street
San Bernardino, California 92415-0061
Telephone: (909) 387-3700