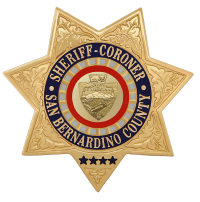 San Bernardino County Sheriff's Department
Press Release
DATE/TIME: November 29, 2017
INCIDENT: Narcotics and Weapons Violations
LOCATION: Highland Avenue / Boulder Avenue
SUSPECT: Scott Conner, 38 years old, resident of Redlands
Summary
On Wednesday, November 29, 2017, Deputy Luis Sandoval from the Central Station received information that Scott Conner, a Parolee at Large, was in the area of Highland Ave. and Boulder Ave. Sandoval conducted a subject check of Conner as he was approaching his vehicle and a record check confirmed Conner was wanted by the Department of Corrections for an outstanding murder warrant. Conner was arrested and his vehicle was searched. During the search of his vehicle, Sandoval located a loaded .357 Magnum Revolver handgun, evidence of narcotics sales and cash.
Through investigation, Sandoval discovered Conner was a documented NLR gang member out of San Bernardino County. Conner was booked into Central Detention Center where is being held without bail.
Anyone with information regarding this incident is urged to contact Central Station at (909)387-3545. Callers wishing to remain anonymous are urged to call We-Tip Hot line at 1-800-78-CRIME(27463) or you may leave information on the website at www.wetip.com.
Photo available: https://local.nixle.com/alert/6278839/
Refer: Deputy Luis Sandoval
Station: Central Patrol
Case #: 011703415
Phone No. (909) 387-3545
John McMahon, Sheriff-Coroner
San Bernardino County Sheriff-Coroner Department
Sheriff's Public Affairs Division
655 E. Third Street
San Bernardino, California 92415-0061
Telephone: (909) 387-3700