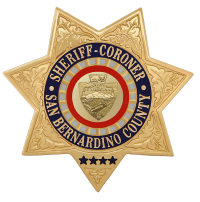 San Bernardino County Sheriff's Department
Press Release
DATE/TIME: October 31, 2017
INCIDENT: PC 212.5 / PC 182(A)(1) Residential Robbery, Conspiracy to Commit Crime
LOCATION: 1300 Block of Glenmare Blvd, San Bernardino
SUSPECT(S): Dayonta Carr, age 22 a transient of San Bernardino
15 year old Black Male Juvenile
14 year old Black male Juvenile
VICTIM(S): Confidential
Summary
On October 31, 2017, at approximately 8:44 p.m. a residential robbery occurred in the 1300 block of Glenmare Blvd in the unincorporated area of San Bernardino. The victim, an elderly male was asleep during the robbery. Family members witnessed the crime on the homes security camera system and immediately called sheriff's dispatch. Three black male suspects shattered a window to the victim's residence and entered without permission. While inside, the suspects stole jewelry and electronics from the home, then fled on foot from the location. Deputy Brian Gapik responded to the scene. Additional deputies arrived and with the help of sheriff's aviation, a perimeter was immediately established. After an extensive search, all three subjects were located and arrested. Stolen property from the victim's residence was located in their possession.
Dayonta Carr was booked into Central Detention Center. Both Juvenile suspects were booked into Juvenile Hall.
Anyone with information regarding this incident is urged to contact Central station at (909)387-3545. Callers wishing to remain anonymous are urged to call We-Tip Hotline at 1-800-78-CRIME(27463) or you may leave information on the website at www.wetip.com.
Refer: Deputy B. Gapik
Station: Central Station
Phone No. (909)387-3545
Case No. 011703115
John McMahon, Sheriff-Coroner
San Bernardino County Sheriff-Coroner Department
Sheriff's Public Affairs Division
655 E. Third Street
San Bernardino, California 92415-0061
Telephone: (909) 387-3700